It is 50 years this month since Otis Redding died aged only 26 in a plane crash in Madison WI, killing him and four members of his backing group, the Bar-Kays. He was not yet a huge superstar and in fact became such only after he died, with a posthumous worldwide number in (Sitting On) the Dock of the Bay recorded just three days before he died.
In the UK he had been phenomenally popular, especially among young white mods and had had pop hits like My Girl. Back home in the US, he was huge R&B star, topping the R&B charts bit not crossing over to the whiter pop charts. After years as a full-throated blues shouter, he was aiming for a calmer style, in that gap in the market created by the death of Sam Cooke, that other slightly gravelly voiced gospel-turned-poppier singing star, who but had been shot dead in December 1964. Motown too had dominated the charts in the mid-Sixties, cleverly matching R&B with pop rhythms and arrangements on the Temptations and the Four Tops with stunning success. Otis' label Stax wanted a piece of that and had a plan in place, with Otis at the centre. It's just that it was interrupted by a plane crash on 10 December 1967.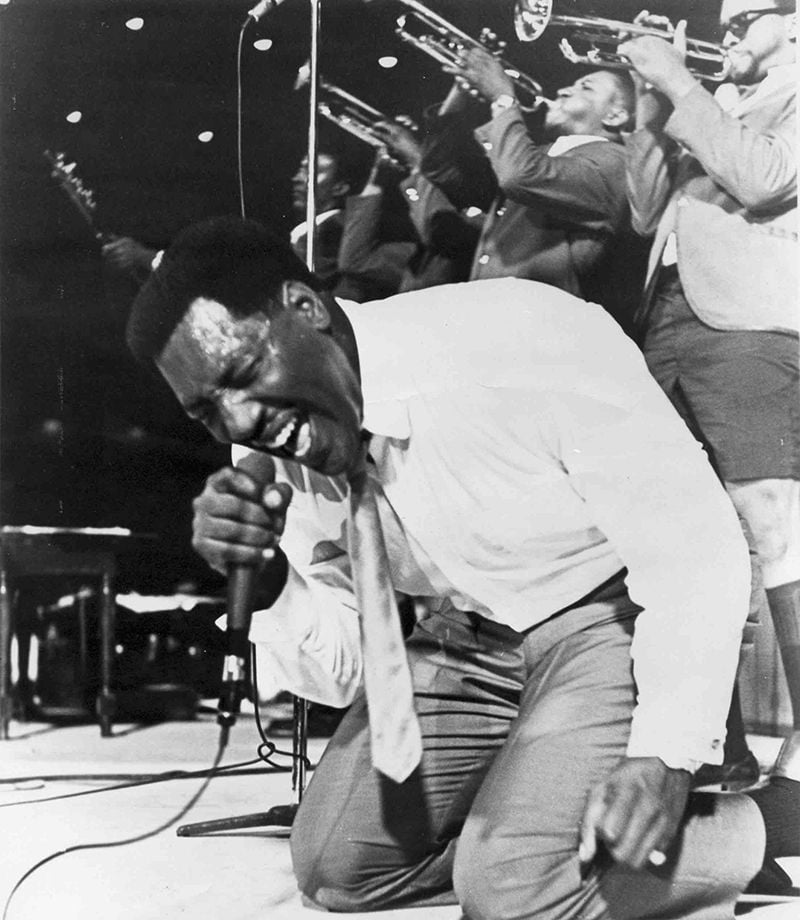 Otis Redding was born on 9 September 1941 in Dawson GA, a very small town 150 miles south of Atlanta GA, and moved aged three to Macon GA, about 80 miles nearer Atlanta. His father was often ill so times were hard and Otis had to leave school at 14 to work to help the family. He sang gospel songs on the local radio station for a few dollars and entered – and won – talent contests to make a little money
He was inspired by another Macon GA singer, Little Richard, and Otis' first proper job as a singer was replacing Richard as singer in the Upsetters, Richard's band who suddenly found themselves out of work when Richard retired to be a preacher in 1957. His first records are little more than Little;e Richard impressions and no one bought them. He then moved on to Johnny Jenkins & the Pinetoppers, whose single Love Twist, was a regional hit. In 1962 Atlantic put up the money for for a follow up as long as it was recorded at Stax in Memphis 500 miles away. Otis was the driver because Johnny Jenkins couldn't drive. Otis was 21.
The session was a bust from Jenkins' point of view but Atlantic Records knew Otis' voice was a bit special and had agreed that if there was any time left in the 3-hour session, they should use it with Otis. Otis recorded a couple of songs including a song of his own he had written, These Arms of Mine backed by Stax's house band, Booker T and the MGs. It was the only useable thing from the whole session and was released by Volt, a Stax subsidiary. By March 1963 it was a minor national hit so Redding got a record deal and began a career where each single did a little better than the one before. After two years, his career hit real stride with Otis Blue: Otis Redding Sings Soul, his third album, where he was backed by Isaac Hayes and Booker T and the MGs. The whole record was recorded  in one 24-hour session between 10 am July 9 (a Saturday) and 2 pm July 10, with a break 8 pm Saturday to 2 am on Sunday to allow the house band to play local gigs.
Otis wrote many of his own songs, or co-wrote them with Steve Cropper, the in-house producer at Stax and the MGs guitarist. Otis worked out the arrangements and hummed the horn parts to the musicians, he banged out the tempo and the rhythm on the desk to the drummer and then just sang. Everything was recorded live, especially early on. Nothing was planned, it was worked out around the piano and played. Otis Blue and the albums that followed did so well in the UK that the producers of top pop show Ready Steady Go! invited him and his 10-piece Otis Redding Orchestra over for a special show in September 1966. He performed, Satisfaction, My Girl, Respect, Pain in My Heart, I Can't Turn You Loose, Shake and Land of a Thousand Dances. Special guests Eric Burdon who had just left the Animals and Chris Farlowe, both excellent R&B shouters, joined Redding on the last two songs. Burdon performed Hold On I'm Coming and Farlowe performed This Is A Man's World.
Whilst he was here, he played a number of ballroom gigs around the country which were so successful that Stax decide to launch the Stax record label here with a full-on  package tour of artists, the Stax Volt revue, which included Otis, Sam and Dave, Booker T & The MG's, Carla Thomas, Eddie Floyd, Arthur Conley and house band the Mar Keys. They played two-shows-a-night in 29 cities in 31 days, all immortalised on The Stax-Volt Revue Live In Europe recorded live at the opening gig at the Astoria Finsbury Park on Friday March 17 1967. There were some amazing performers on the bill, especially Sam & Dave but the star of the show was Otis. When he came out on stage, there was a moment of hush as all the mods and GIs realised that it was actually Otis Redding.
The tour as a triumph, but back home he was still not a huge star. He had though made some money. He was a successful businessman, earning about $35,000 per week from concerts and owned his own publishing and had been careful with what he had signed. He earned more than a million dollars in 1967 alone and bought himself a 300-acre ranch near Macon GA called the Big O. He loved it there and started playing shows only at the weekend so he could spend the week at home. To get anywhere in the country of shows, he bought himself a new twin-engined Beechcraft aeroplane
The plan to get him cross-over success continued when he played the Monterey Pop Festival over the weekend of 16-18 June 1967. This was NOT his natural crowd, it was what West Coast hippie audience, the love crowd as he called them from the stage. But it was a huge shop window, huge strings were pulled to get him on the bill and in the end he played for free, no fee, just flights and hotel for him and the band.
He closed the evening session on the Saturday, following of all people the Jefferson Airplane. He only played five songs, as they had gone over their curfew and his set was cut short by 2 or 3 songs. The audience of white hippies, largely stoned, came with him such was his energy. He went down a storm pong course but it was his last major show.
His full-throated singing style and gave it all two or three shows a nigh schedule had strained his voice, so he took 6 weeks off to have throat surgery. Finally back in the studio in November 1967, he recorded dozens of new songs he'd written during his recuperation, one when he lived on a houseboat in Sausalito in San Francisco Bay. (Sitting On) the Dock of the Bay was a fundamental change in style and he completed it on 7 December 1967, just before he left on a trip to play dates around the Great Lakes, with hot young Stax band the Bar-Kays as his backing group. They had had a big hit that summer with Soul Finger and when I say 'young' I mean young: the oldest had just turned 19 years old and most were still in High School during the week and were able to leave for the weekend to travel with Otis as long as they were back Monday morning for school.
First stop was actually in Nashville for 2 shows, then they flew on to Cleveland 500 miles away in Otis' plane to do a local TV show called Upbeat, followed by two shows that night at Leo's Casino. The next day they flew on another 500 miles to Madison WI for two shows that night, 10 December 1967. At 3.30 in the afternoon, four miles from Madison's airport and a few hundred yards from the shore, Otis' plane crashed it crashed into Lake Monona in fog and heavy rain. Otis, his pilot, his 17-year-old valet Matthew Kelly and four of the Bar Kays aged 17 and 18 all died, either from the impact of the crash, hypothermia, or drowning. The only survivor was Bar Kays 19-year-old trumpeter Ben Cauley who managed to use a seat cushion as flotation device as he couldn't swim. Bass player James Alexander also survived because there were eight seats on the plane and nine in the touring party so they took it in turns to fly commercial. It was his turn that day.
Despite their shock and sadness at the loss of a member of their family, Stax rushed to exploit the situation . They added seagull and water lapping noises to the (Sitting On) the Dock of the Bay (and replaced his whistling too, apparently) and rushed it our into the market. It went to Number One in the USA and in many other countries around the world. It won two Grammy Awards: Best R&B Song and Best Male R&B Vocal Performance.
The Bar Kays regrouped, replaced lost members and became the new house band at Stax and were on all those wonderful Isaac Hayes records like Hot Buttered Soul and Shaft. as the Isaac Hayes Movement. Ben Cauley died in 2015 and never really got over the experience. Stax didn't really recover though, plagued by business problems and a disastrous deal with Atlantic, but that's another long story.